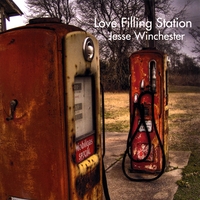 Well the weekend is coming up and time for the
All Memphis Music Specialty Show. This week a brand new CD (the first studio CD in ten years) from former Memphian, Jesse Winchester.

Jesse Winchester was born in Shreveport, LA but grew up in North Mississippi and Memphis. Bob Dylan called Jesse among his favorites of his generation!

After you hear this CD, you'll know why.

His 2007 Lifetime Achievement Award from the American Society of Composers, Artists, and Publishers is one gauge of the music world's esteem.

In 1967, Jesse left the US to live in Canada and avoid the draft and the Viet Nam War. Jesse started recording in Canada and has released albums throughout the years......but was unable to tour in the US due to his status.

In 1977, President Carter extended amnesty to those that fled the draft and Jesse could finally tour in his homeland.

Fast forward to 2009 and Jesse is releasing his next body of work...........a new CD titled..LOVE FILLING STATION.
All Memphis Music thinks you're gonna love what ya hear! WELCOME BACK JESSE!!!!

The All Memphis Music Specialty Show will air this Friday night, April 17th at 10:00 PM (CST Memphis Time) and rebroadcast on Saturday morning April 18th at 10:00 AM (CST Memphis Time)

Special thanks to The Memphis Convention & Visitors Bureau
and The Memphis Commercial Appeal
for their true support of
All Memphis Music!

Please come to visit us in Memphis, the Home of the Blues and the Birthplace of Rock N Roll!!!!
Click here for All Memphis Music