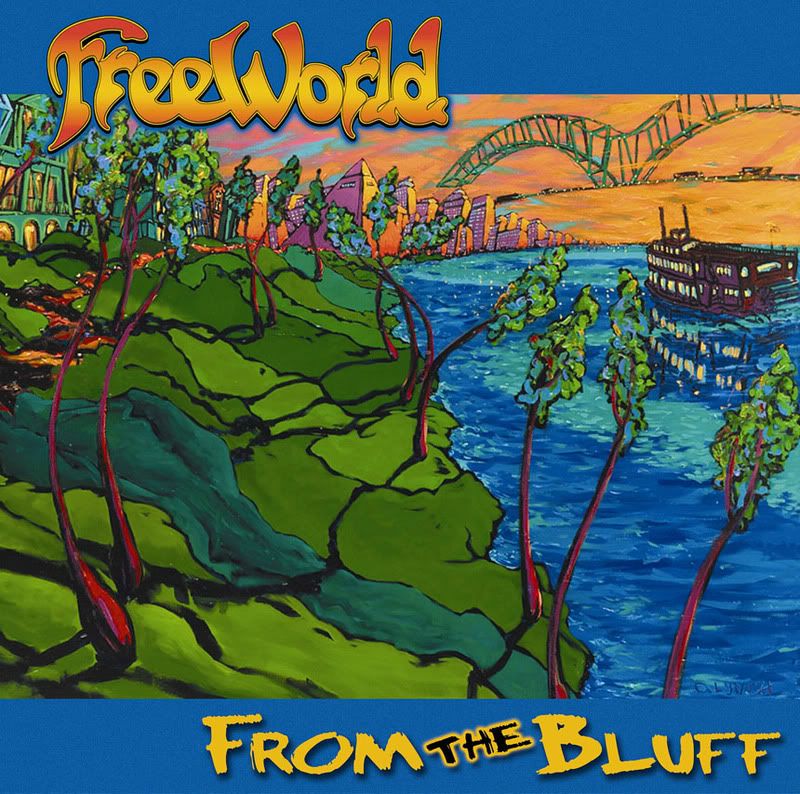 It's the ALL MEMPHIS MUSIC Specialty Show this weekend. We'll be playing the new CD from Memphis based, FreeWorld, in it's entirety. The show will air this Friday night, October 17 th at 10:00 PM (CST MEMPHIS TIME) & rebroadcast on Saturday Morning, October 18th at 10:00 AM (CST MEMPHIS TIME)


FreeWorld has been an independent, regionally touring, ever-evolving Memphis-based musical ensemble since 1987. Drawing from influences as broad-based as Booker T. & the MG's, John Coltrane, Frank Zappa, The Grateful Dead, and The Meters, these brothers under one multicultural groove have remained a consistently entertaining and informed voice on the Memphis music scene since the group's inception.


Featuring 78-year-old jazz saxophone legend Herman Green (who has performed &/or recorded with the likes of Miles Davis, John Coltrane, B.B. King, Lionel Hampton, Clark Terry, Phineas & Calvin Newborn, Bob Weir, Rob Wasserman, Stephen Perkins and a host of others during his 63 year professional music career), the group is literally 'new school meets old school', and has been variously described as "The best of Memphis, New Orleans, & San Francisco - all rolled into one fresh & excitingly unique musical experience!"


They've also had the privilege of sharing the stage with a wide variety of music legends over the years, such as Levon Helm, The Memphis Horns, Billy Preston, Richie Havens, Blues Traveler, Derek Trucks, Hot Tuna, Los Lobos, Merl Saunders, Dr. John, Timothy Leary, John Sinclair, The Bar-Kays, Ann Peebles, Steve Cropper, James Cotton, Mojo Buford, Jimmie Vaughan & Double Trouble, Susan Tedeschi, Kenny Wayne Shepherd, Jonny Lang, and Widespread Panic just to name a few.

"From the Bluff", their 5th full length CD, was produced by none other than Memphis music icon Jim Dickinson - who has produced, performed and/or recorded with some of the most influential and successful recording artists of all time, including Bob Dylan, The Rolling Stones, Aretha Franklin, Sam & Dave, Arlo Guthrie, The Replacements, Big Star, and Ry Cooder among MANY others.


Recorded & mixed at Dickinson's Zebra Ranch Studio in Coldwater, Mississippi, "From the Bluff" prominently features musical contributions from many special guest artists such as Luther Dickinson (lead guitarist for both The Black Crowes & North Mississippi Allstars), Cody Dickinson (drummer for North Mississippi Allstars), The songs on "From the Bluff" are exceptionally well-written (primarily composed by various combinations of the core songwriting team of bassist/vocalist/lyricist Richard Cushing, drummer/lyricist David Skypeck, guitarist Brian Overstreet, and trumpeter/vocalist/lyricist E.J. Dyce), with the lyrical content ranging from light-hearted, observational "slices of life" to deeper philosophical musings, while the music remains true to the oft-touted FreeWorld standards of superb musicianship, tight arrangements and a wide-ranging stylistic and instrumental prowess.


"From the Bluff" is undoubtedly FreeWorld's best and finest recording to date, and again proves the age-old adage: Great music, played from the heart, never goes out of style!
In addition, "From the Bluff" also proudly features original paintings on both the front & back covers (and on the CD itself) by prominent Memphis-based artists David Lynch & Lamar Sorrento.
Thanks to The Memphis Convention & Visitors Bureau for their support of All Memphis Music